Social Justice
29-09-2015
What is Marist Social Commitment?
Posted on the Marist City Centre churches blog,
a summary in 6 points on precisely this question
, given by Jan Hulshof SM in a august 2015 talk at the international gathering of Lay Marists in Madrid, Spain.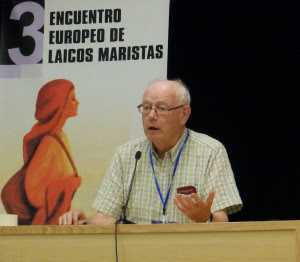 Jan Hushof in Madrid
It is an answer to the question asked on the Marist City Centre churches blog,
a visit to Franciscan church of St Boniface
in the Tenderloin, a deprived area in San Francisco. The visit took place during the workshop on Marist city centre ministries. There was a feeling that it prompts us to engage in social action in a distinctly Marist way.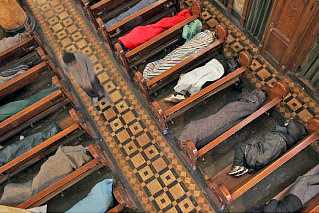 Two thirds of the church, full of homeless people sleeping in the benches
28-07-2014
A call for peace through sanctions from the Christians in Palestine.
It was formulated by the National Coalition of Christian Organizations in Palestine, Kairos Palestine. Israelis and Palestinians can live together in peace and mutual love if the root causes of injustice are removed.

Kairos Palestine is "the Christian Palestinians call to the world" issued in 2009 by the Patriarchs, bishops and heads of Churches. Here is the English version of the 2009 call.
09-09-2012
A Social Justice retreat by Peter McVerry sj.